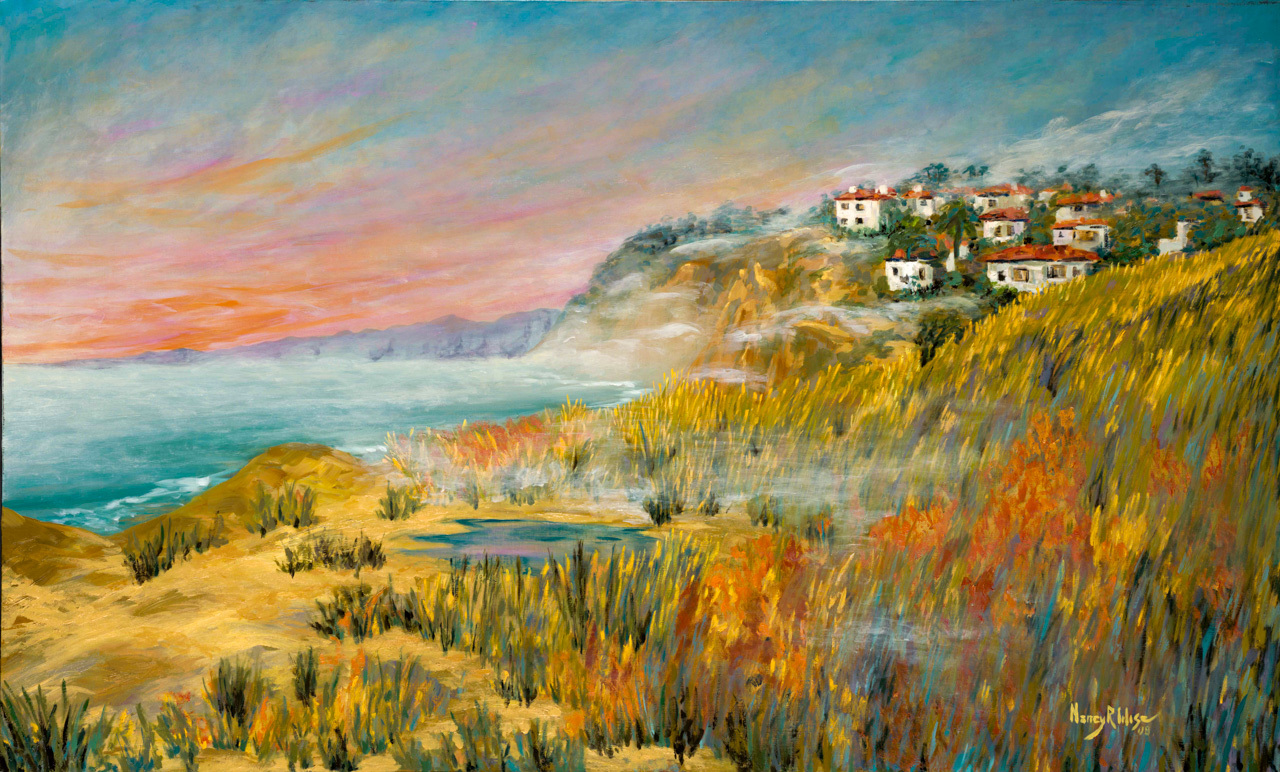 This stunning original 28″x46″ oil painting is currently displayed in our tasting room!
Now Available – A professionally framed, 12″x20″ museum-quality giclee print on canvas.
California boasts a coastline that rivals any in the world. And it may be best between Santa Barbara and Monterey. As you wend your way north on Highway 1 spectacular views greet you at every turn: the Pacific, hosting offshore islands, stretching to the horizon; the soaring Coastal Range climbing on your right or plunging madly a thousand feet to a foaming sea; cattle grazing between the oak dotted hills; orchards of apple and plum; or farmland planted with strawberries, celery, lettuce and peas. And of course seemingly endless vineyards bask in the perfect growing conditions. Every noble grape variety is represented here but Santa Barbara is known internationally for their Pinot Noirand Chardonnay.
But it's not just about scenery. They named this land "The American Riviera" for a reason. Every imaginable amenity can be found here: quaint towns, fabulous restaurants, spa resorts, artist's enclaves, unique shopping plus world-class wineries. And Santa Barbara is the jewel in the crown.
Wine tasting is a favorite pastime in this enchanted place. Visitors flock here by the thousands to sample California's finest. Although the County now hosts hundreds of winery tasting rooms, Santa Barbara itself has become a wine tasting enclave. A dozen tasting rooms have sprung up since the movie Sideways popularized the area's favorite sport in 2004. But it was in 1962 that Pierre LaFond opened the very first – Santa Barbara Winery.
We feel that Nancy Wise has captured the true spirit of our unique area. To celebrate we have produced a professionally framed, 12″x20″ museum-quality giclee print on canvas. Take part of the American Riviera home with you to enjoy all year long!
The painting:
Original Oil on Canvas, 48″×30″,
Framed 51″×33″
The print:
Giclee on canvas, 12″x20″, Framed 14″x23″,